Welcome to the
Santa Cruz Lumber Company
Garden Railroad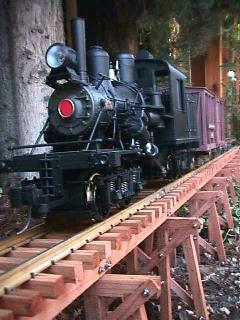 The SCLCoRR is a 1:20.3 (0.591" = 1'), scale outdoor railroad running on #1 Gauge (45mm), track. Just like its real-life counterpart, the SCLCoRR is a logging line set in the 1930's in the Santa Cruz Mountains, a heavily forested California coastal range separating Santa Clara Valley from the city of Santa Cruz on the coast. With its sawmill near Boulder Creek, and its headquarters in Felton, its main product is rough sawn redwood, felled from the thousands of acres of redwood stands in the upper Pescadero Creek area.
In actuality, the railroad is built around three sides of a small backyard. Limited space forced the use of tight curves (minimum radius is two feet), so a narrow gauge logging railroad was a natural choice. Total trackage is probably less than 100 feet, and consists of a single-track mainline with automated reversing loops at each end to provide for continuous running when desired. Structures are all scratchbuilt from scale redwood lumber sawn at home.
Please Sign my Guestbook and enjoy your visit!!
This site best viewed at 1024 x 768. Last updated 04/11/02.