The Real Santa Cruz Lumber Co. - con'd
By the beginning of the 1930's, falling operations had progressed further and further from the mill, and a more efficient method of getting logs to the mill pond was needed. It was decided to build a logging railroad, and on March 31, 1930, the Santa Cruz Lumber Co. purchased their first and only locomotive, a 42 ton, two-truck, standard gauge Shay, from the San Joaquin & Eastern Railroad for $2,375.00. Four or five flat cars were also purchased from SJ&E.
Lima Shay No. 2461 was shipped new to the Fresno Flume & Lumber Co. at Clovis, CA on July 28, 1911 as their No. 2. She operated for years on the Shaver Lake Lumber Co. as their No. 2, and was sold to them on August 1, 1919, who leased her to Southern California Edison for use on dam construction projects then underway near Shaver Lake. The San Joaquin and Eastern, which had provided access to the dam projects since 1913, purchased her on January 1, 1926, where she was again No. 2. She still bore No. 2 painted on her when she arrived partially dismantled by flat car at Felton. Over the years, the lettering faded and the number disappeared, but railfans of the 30's would re-letter her several times for photographs. Each time, a different style lettering was used, and this caused confusion for other railfans. However, The number 2 was always used, and she became known as SCLCo No. 2 even though she was the first and only locomotive the company ever owned or operated.

No. 2 in the woods near Shriner's Grove.
Bert Ward photo July 8, 1938
The partially disassembled locomotive and cars were loaded on a truck and hauled to the mill site. Since the road still had not been constructed down to the mill, the parts were lowered by highline to the new track constructed south of the mill across Pescadero Creek, there to be reassembled and readied for operations.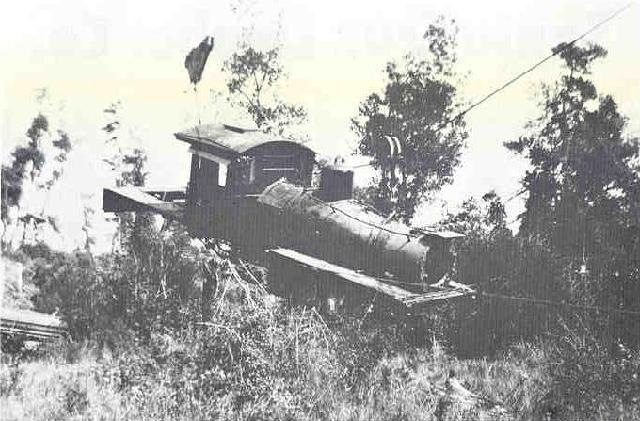 Highlining the Shay across Pescadero Creek.
Company photo 1931
The first ties were of redwood cut at the mill and dumped into the creek. They were then bundled and winched up to the roadbed, located on the south side of the creek opposite the mill. Rail was mostly 70 pounds with some dating from 1881.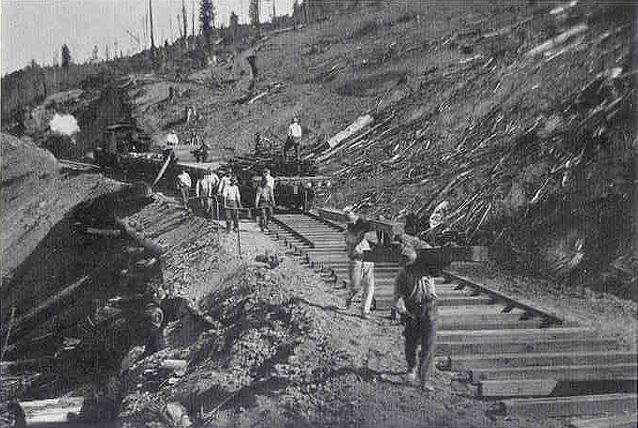 No. 2 heads a construction train carrying rail and ties as track is extended.
Company photo in the early 30's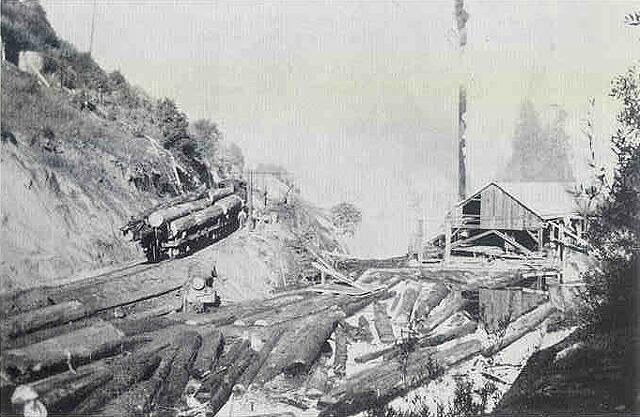 The railroad bringing logs to the mill pond.
Company photo in the early 30's